Inventing future practices
Permanent adaptation is required in order to solve users' problems, whether they be DIY amateurs or experienced professionals. It is also essential to maintain an overview and anticipate future practices on a daily basis.
This ability to constantly innovate is hard-wired into our DNA and drives our growth. It also gives us a powerful means of standing out from the crowd.
An interdisciplinary approach fostering creativity
We do not just innovate for the sake of it. Our talents have one goal in mind when devising innovative products or concepts – making life easier for individuals and professionals.
That's why all Wirquin products are primarily designed to meet customer requirements and ensure ease of use, while also introducing technological innovations. Staff in 3 different areas – marketing, design and R&D – join forces to achieve this. Our innovations are a result of this effective cross-pollination.

Products that make life easier
Our innovative products combine aesthetics, ergonomics and smart processes to improve everyday life by:
– Controlling water consumption
– Reducing noise levels
– Effectively tackling smells
– Effectively discharging waste water
– Enabling kitchens and bathrooms to be cleaned more easily
– Optimising space
– etc…
A focus on innovation
Every year, our group allocates 5% of its turnover to the strategic priority of innovation. The Group's headquarters in Carquefou is home to an R&D department staffed by some twenty engineers with wide-ranging expertise (advanced research on innovative concepts, development, testing/validation, etc.). This is where most new developments are devised, including flushing mechanisms, wastes, connectors, cisterns, frames, toilets seats and walk-in shower solutions. Our global R&D talents in the United Kingdom, China and Romania furthermore carry out specific projects for their markets.

Operational excellence is critical to our everyday operations
Our group has made quality an everyday priority, enabling us to meet our users' requirements.
This applies primarily to our products, which we design with painstaking attention to detail. However, it is also true of our working methods and organisation, whereby our daily goal is to achieve an exceptional level of global performance whether in economic, environmental or social terms.
Quality – a permanent requirement
Since it was set up, our group has set itself one goal – to offer consumers an impeccable standard of quality. From product design to marketing, our 1,400 talents work hard at each stage of the process to ensure that no faults slip through the net.
All products furthermore undergo a number of technical inspections (flow rate, sealing, durability, etc.) based on the criteria of national and international quality standards:
CERTIFIED WIRQUIN QUALITY

GREEN ACCREDITATIONS

CERTIFIED INDUSTRIAL ORGANISATIONS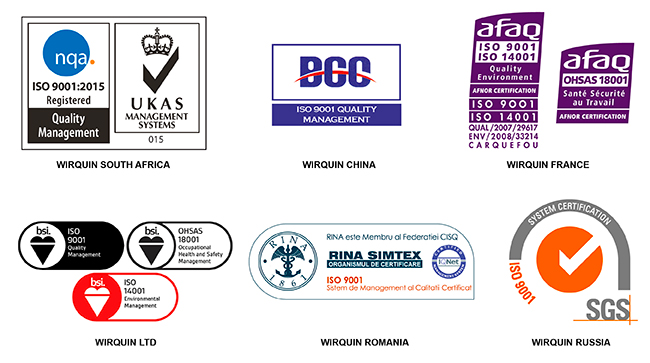 These recognised quality standards are accompanied by a commitment to the environment. For instance, our wood-based products are FSC and PEFC-certified. This reassures consumers that they are buying responsibly and contributing to sustainable forest management.
Committed to the environment and health
In addition to quality, our key priorities also include reducing our environmental impact and protecting our employees. Our group has therefore embarked on a process of certifying our industrial organisations in these areas and all our production sites now have ISO 9001 certification (quality management). By 2020, they will also all be certified for ISO14001 (environmental management) and OHSAS 18001 (occupational health and safety management).
'We control product quality at all stages, from development to marketing. Moreover, our production sites are environmentally-friendly and ensure our employees' well-being.'
Laurent SALZAT (Wirquin Group QHSE Manager)